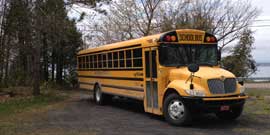 We've worked with local teachers and educators to design a series of outdoor classroom adventures.  Knowing that different groups will have varying amounts of time on our conservation lands, we've created options so teachers can pick and choose activities along the trails.
We'd be happy to discuss ways for our staff to meet your group at our conservation projects!
NOTE: The Vermont Education Standards in each curricula are listed in the front.
Niquette Bay State Park (Colchester)
25 minutes from downtown Burlington
Niquette Bay Outdoor Classroom Fact Sheet
Upper La Platte River Natural Area (Shelburne)
25 minutes from downtown Burlington
Upper La Platte Outdoor Classroom Fact Sheet
Goodsell Ridge Fossil Preserve (Isle La Motte)
75 minutes from downtown Burlington
Goodsell Ridge Outdoor Classroom Fact Sheet
Butternut Hill Natural Area (North Hero)
50 minutes from downtown Burlington
Butternut Hill Outdoor Classroom Fact Sheet
For full lesson plans and other activity ideas call Chris Boget, Executive Director, at (802) 862-4150 or email Chris@lclt.org