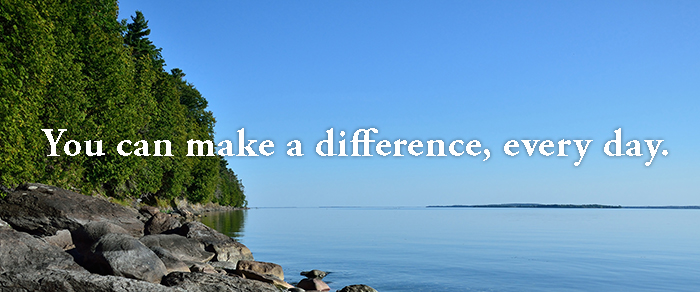 Each day, Lake Champlain and the surrounding woodlands, farms, streams, rivers, and wetlands play a role in our lives. We play in it, work with it, live amongst it and gain peace from it.
Together we enjoy local foods, clean water, and the beautiful Champlain Valley of Vermont and New York. But, the Lake and its watershed need your help.
Development pressure is threatening the lake's wildlife habitat and working farms. It's also threatening the health of the lake.
Kids are growing up without a strong connection to nature and farms–which means (according to research from Cornell University) that the next generation is less likely to care and be good stewards of the land.
In many communities, there are few places for people to walk, hike, or swim close to home.
There are many ways to give, and to help. Thank you for caring and for making a difference.
Monthly Giving. You can make a difference every day. Contributions starting at $5/month can help conserve land and support kids, year-round. Learn more.
Give a One-Time Gift. You can do so online, in a safe and easy manner. Or you can print out our form and mail in your contribution. Learn more.
Volunteer. Are you looking to help with trails, donate professional services, assist with office tasks, or host events or programs? We'd love to brainstorm with you. Learn more.
Honorarium and Memorial Gifts. Would you like to honor a birthday or holiday? Perhaps you want to honor a lost loved one who loved the lake. Make a lasting tribute to a friend or relative. Learn more.
Planned Giving- Leave a Gift in your Will. You can help change lives, protect special places, help wildlife, and work towards ensuring the lake's health. It's easy to do and any amount is welcome. Learn more.
Gifts of Stock, Retirement/IRA Funds and Appreciated Assets. You can donate gifts of stock, retirement funds and appreciated assets and you may avoid capital gains. It's simple and easy to do. Learn more.
Gifts of Real Estate-Non-Conservation Land. Maybe you have a house, business, or piece of land that has value, but you'd rather not pay taxes on it? Camps, apartment buildings, and vacant building lots could really help our conservation work. Learn more.
Gifts of Real Estate-Conservation Land. Would you like a tax deduction and see your land conserved? How about establishing a nature preserve or public conservation area? Farms, woodlands, camps, wetlands…many types of conservation lands can make a big difference. Learn more.
Corporate Matching Gifts. Many employers will match your contribution by giving the same amount or more. It's a great way to increase your impact. Learn more.