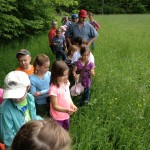 Being outside in the natural world is a great environment for children to learn in.
Environmental and outdoor education are essential additions to a well rounded education, allowing children to fall in love with the natural world and become acquainted with natural systems—all in an environment where they can experience nature working around them.
We have created curriculum for four of our public conserved natural areas:
Topics ranging from geology to water quality
Detailed lesson plans, for various ages groups, that meet many Vermont teaching standards
Direct and specific instructions with guided trails maps for a fluid and easy to conduct lesson.
We have constructed our outdoor classrooms to be just as fun as they are educational. Our ultimate goal is to assist teachers every step of the way in order to get our children out of the classroom and learning in beautiful (and permanently conserved*) natural environments.
To see the outdoor classroom page click here. If you would like a full curriculum contact Executive Director, Chris Boget, at (802) 862-4150 or chris@lclt.org.
* Teachers can return again and again.  And students can bring their families back.