Chris Boget, Executive Director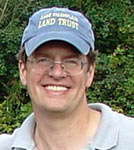 Chris has more than twenty years of experience in land conservation, including positions with the Vermont Housing and Conservation Board, the Vermont Land Trust, and the Western Pennsylvania Conservancy. Chris previously worked for the land trust as Director of Land Protection and Assistant Director and has extensive experience with landowner outreach and education.
He attained a Master of Science degree in Natural Resource Planning from the University of Vermont. His thesis used GIS models to compare methods of prioritizing of the most important conservation parcels in Rutland County Vermont. Chris holds an undergraduate degree in Biology from the College of William and Mary. You can contact Chris at 802-862-4150 x 1 or by email at
Jeff O'Donnell, Outreach Coordinator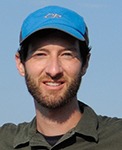 Born and raised in Upstate New York, Jeff grew up hiking and canoeing in the Hudson Valley and Adirondack regions. He brings a passion for land conservation and environmental communication to the Lake Champlain Land Trust. He received his Master of Science degree in Natural Resources from the University of Vermont. Jeff's thesis research examined collaboration and public discourse regarding major land conservation projects in the Adirondacks.
Prior to moving to Vermont, he worked for ten years as a policy analyst with the New York State Assembly. Jeff spends much of his free time hiking, fishing, paddling, and skiing in the Champlain Valley and Northern Green Mountains. He holds a degree in Biology and Environmental Studies from St. Lawrence University. You can contact Jeff at 802-862-4150 x 2 or by email at
Gannon Osborn, Land Protection & Stewardship Coordinator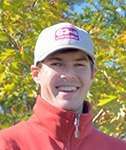 A Vermonter by birth, Gannon grew up in Canandaigua, New York exploring the hills and deep glacial lakes of the scenic Finger Lakes region.  He brings a unique blend of skills and experience to his work with the Lake Champlain Land Trust, including landowner relations, extensive environmental project management and Geographic Information Systems experience. Gannon attended Marist College, where he received a B.S. in Environmental Science and Policy.
Gannon caught the land conservation bug while monitoring conservation easements and participating in land management and other stewardship activities at the Columbia Land Conservancy in New York's Hudson Valley.  Gannon is excited to return to his native Vermont, and looks forward to getting his skis covered in Green Mountain powder. You can contact Gannon at 802-862-4150 x 3 or by email at