Library Programs:
We have hosted library programs in New York and Vermont.  A good nature book is all it takes to get kids excited about the outdoors!
Guided Hikes:
We offer guided hikes throughout the year. To receive notifications about upcoming hikes, click on the blue Subscribe button to the right and provide your e-mail address.
Outdoor Classrooms:
We're working with a number of local teachers to refine our outdoor classroom curriculum. For more information about our educational resources for local teachers, visit our outdoor classroom page.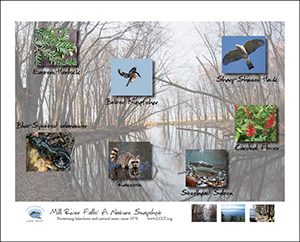 Nature Snapshots:
We've created a whole set of unique Nature Snapshots for our natural areas. If you're curious about what you spotted out on the trail, view our Nature Snapshots.
Camp Programs:
We've hosted a summer camp program with our partners at Camp Kiniya, now owned by Camp Dudley, in Colchester, VT.  You can read more on our summer camp program page.