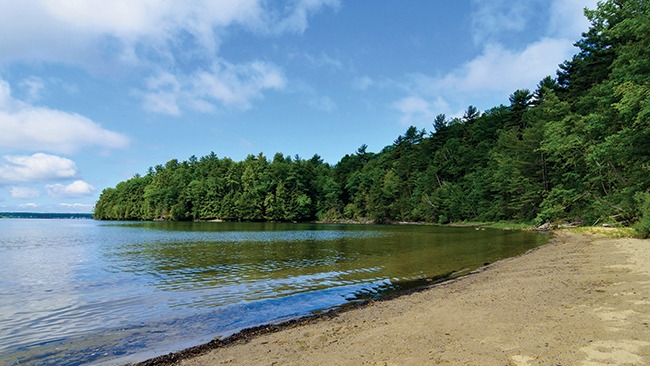 Niquette Bay State Park is an incredible place to go hiking near Burlington, VT. A short 20-minute drive from downtown, this popular but uncrowded park offers classic Vermont hiking experiences spread through the core of the 550-acre park.  A rewarding and short trail to the sandy shores of Lake Champlain follows a former road, smooth and wide enough for all ages.  Other moderate hikes scale small ridgelines for gorgeous overlook views of the Green Mountains, Northern Adirondacks, and South Hero. The park is open to the public for hiking and swimming and is well worth the reasonable state park day use fees during the summer months.
Niquette Bay State Park News and Press
Niquette Bay State Park Photo Galleries
Directions
From Burlington and Points South and North: Take Interstate 89 to Exit 17 (Lake Champlain Islands / Milton Exit), take Route 2 West, continue past the confusing Niquette Bay Road on Route 2 West for approx. 1.5 miles, take the Raymond Road exit ramp on the right. At the stop sign turn left onto Raymond Road and head straight across Route 2. The park entrance sign will be on your left approximately 0.25 miles after crossing Route 2.
From the Lake Champlain Islands: Take Route 2 East to Raymond Road, follow Raymond Road for approximately 0.25 miles until you reach the park entrance sign on your left.
Guides
Download our printable guide to Niquette Bay State Park, including driving directions and a brief history of this amazing Vermont hiking destination.
Nature Snapshots
Download a printable series of Nature Snapshots for the Niquette Bay landscape.
History
The Lake Champlain Land Trust worked with three different landowners to simultaneously add 263 acres to the then Malletts Bay State Park back in 2000.  The Land Trust retained a conservation agreement (also known as a conservation easement) and donated all three parcels to the State of Vermont thanks to assistance from the Vermont Housing and Conservation Board.  We have partnered with the park to improve trails, conduct research, and create educational experiences at the park.  (Read about our Owl Hoot here.)
Partners
The Lake Champlain Land Trust worked with our supporters and the Vermont Housing and Conservation Board to double the size of Niquette Bay State Park back in 2000.  The State of Vermont Department of Forests, Parks, and Recreation owns and manages the park using on-site year-round rangers and summer staff assistance.