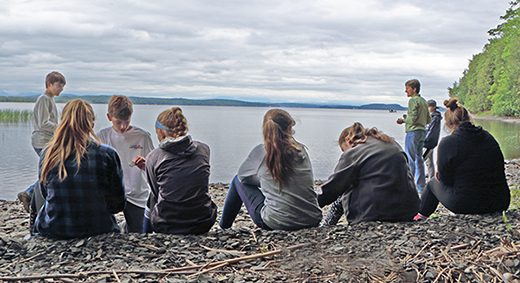 During the summer months the Lake Champlain Land Trust has partnered with summer camps to share our environmental education knowledge and help connect our youth to the Lake.  We can teach everything from water quality testing to river ecology to tree identification and animal tracking.  Lessons include a creative portion where students draw or create something to take away with them.
Lake Champlain Land Trust partnered with Camp Kiniya in 2013 to lead a place-based environmental education program customized to the beautiful 134-acre Camp Kiniya property in Colchester, VT.  (Camp Kiniya is now owned by the parent organization of Camp Dudley in Westport, NY).  Camp Kiniya is graced with over a mile of Lake Champlain waterfront property including a stretch of the Lamoille River delta and a sandy beach that supports nesting turtle populations.
Camp Kiniya is located near our Sandplain Forest preserve and Niquette Bay State Park in Colchester, VT.  We previously provided environmental education resources to Camp Kiniya in 2012 and Brown Ledge Camp (a lakeshore camp near our Birch Island preserve in Colchester, VT).
If you are interested in our free assistance to connect your summer campers to the Lake, please call Executive Director Chris Boget at (802) 862-4150 or email him at