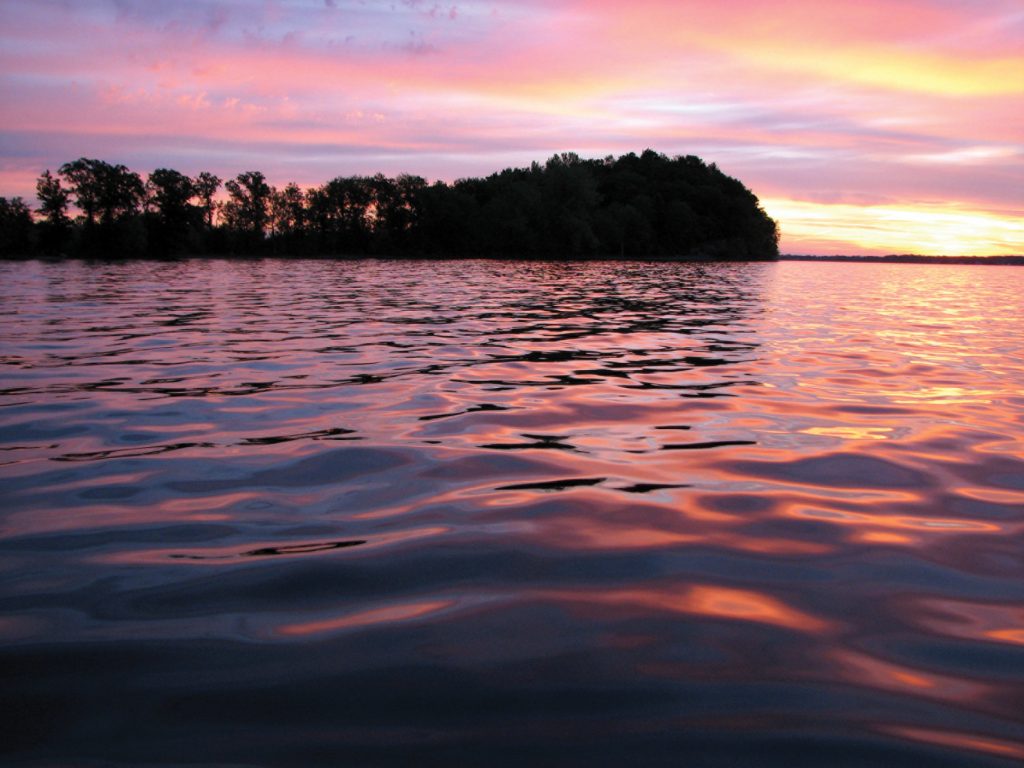 Seventeen islands: large and small, rugged and awe-inspiring…
Our seventeen islands are home to many of Lake Champlain's important wildlife species including the shy and endangered Spiny Softshell Turtle and birds as tiny as the Black-throated Green Warbler— and hopefully soon the majestic Bald Eagle.
Now, thanks to former landowner Jeanie MacDonough and the support of our members and many generous funders, the latest island, Big Bluff Island, has recently joined the Lake Champlain Land Trust's family of conserved islands, bringing the number to seventeen.
Instead of facing residential development, Big Bluff Island will now remain as forested habitat along the shoreline of Lake Champlain. It will continue to provide critical habitat for warblers and other bird species that depend upon seasonal resting spots in order to successfully complete their annual migration.
The five-acre island features a mature forest, wetlands, and the only Erosional Lake Bluff discovered on Lake Champlain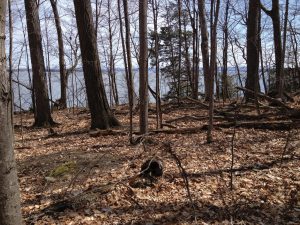 It didn't have to be this way. Jeanie MacDonough could have sold it for seasonal home development but instead realized that she had something far too special. "When you find out that you own something that is rare, a treasured community jewel, you have a choice. It has been in my family for 74 years. My late husband, Bruce Ladeau, and I started talking to the Lake Champlain Land Trust several years ago. The family is thrilled to sell it to the Lake Champlain Land Trust as a wildlife reserve."
Partnerships, Paddlers, and Protection 
Many of the larger islands conserved by the Lake Champlain Land Trust (e.g. Knight, Woods, Law) have been donated to the State of Vermont so that people can camp or picnic as they kayak or canoe throughout the area. Most of the smaller islands protect sensitive wildlife prone to abandon their nests if disturbed. For example, thanks to cooperating landowners and our successful conservation of key islands, Lake Champlain's endangered Common Tern was brought back from near extinction.
The Lake Champlain Land Trust will retain ownership of Big Bluff Island to make sure the management of the island will maintain a healthy balance. Paddlers visiting during the day in certain seasons will not deter the Spiny Softshell Turtle nor future Bald Eagle pairs seeking to nest on the isolated island.
"Eagles have a better chance of making a comeback, here in Vermont, every time we conserve a Lake Champlain island or part of the shoreline," reflected Jeanie MacDonough. "It feels good to see an eagle and think, 'Hey, we played a tiny a role in that.'"
"For us, we felt we owed it to Lake Champlain and everyone who loves the lake to honor its critical conservation importance." -Jeanie MacDonough