Bringing Back the Common Tern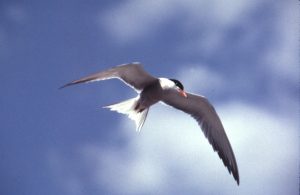 Common Terns are one of Vermont's greatest wildlife conservation victories. Once the most prevalent tern in the Lake Champlain Basin, their numbers dropped from almost 400 nesting pairs in the 1960's to only 50 in 1988. As a result, in 1989 the common tern was places on the Vermont Endangered species list.
Through a combination of efforts, such as building chick shelters on nesting islands, raising public awareness and land conservation successes, the Common Tern has again found its footing on the islands of Lake Champlain.
The Lake Champlain Land Trust, along with its partners has worked to permanently conserve and protect several important Common Tern nesting islands in Lake Champlain. Through protection of breeding habitat, and continual monitoring, Common Terns have soared in number from 50 breeding pairs at the end of the 1980's to 170 pairs in 2001 – that's a 300% increase since 1989!
Conservation Success
The Lake Champlain Land Trust has saved the following islands, all of which represent primary or secondary habitat areas for this critical species:
Gramma's Island, North Hero
Rock Island, Georgia