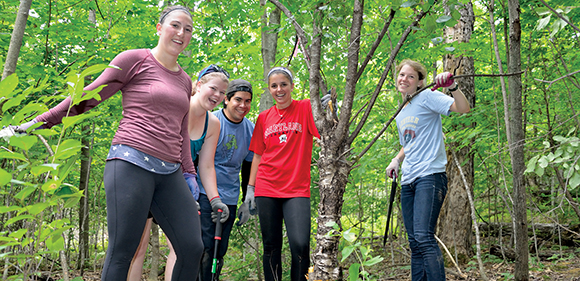 The volunteer spirit runs deep in the Champlain Valley. Lake Champlain Land Trust volunteers help us meet the threats that imperil our cherished waters and shorelands. They are adopting trails, removing invasive species, planting trees along eroding riverbanks, and walking property boundaries.
Thanks to our volunteers, we are restoring our forests and improving water quality. Through stewardship and sound management practices we are caring for the Lake and the Land—to create a new conservation ethic in the Champlain Valley.
---
How You Can Give Back to the Lake

Do you enjoy walking trails? Like getting your hands dirty? There is so much more we can accomplish with your help.
To join our volunteer e-mail list, give us a call at (802) 862-4150 or email .
Opportunities include:
Volunteer monitoring of conservation lands

Photography at our natural areas

Biological inventory work

Mapping
Other opportunities are also available that can be adapted to your interests.  Are you unable to volunteer at this time, but interested in helping the Lake Champlain Land Trust protect the Lake and the Land?  Click here more ways to give.
---
Volunteers: The Keystone to Stewardship
Satisfaction. Discovery. Commitment. Giving back. Protecting the Lake.  These were common answers when we asked our volunteers why they help.
For Thomas and Cathy Shearer, whose family adopted the Round Pond trail, it's about connecting their children to nature. "It became one of our kid's primary gateways to the natural world. They would go exploring and find caterpillars, berries, mushrooms, butterflies, snakes, and a ton of other cool things they wouldn't find in our backyard."
Dianne Leary thinks back to childhood summers spent lying on her grandparent's dock with a diving mask watching fish.  Observing the hidden underwater world, Dianne gained a deep appreciation for Lake Champlain and is driven to protect it. Asked why she volunteers, Dianne states, "If you want change to happen, you have to talk the talk and walk the walk."
A similar desire to take action inspires Gunnar Sievert, who joins our workdays because they generate concrete results.  Our hard-charging volunteers get their hands dirty and witness the results of their digging, pruning, and raking—restored forests, more stable riverbanks, and improved trails.
Partnering with the Community
Giving back to the community is integral to the mission of many local businesses. Real estate attorney Bob Rushford, a partner at Burlington's Gravel and Shea, has volunteered for over 14 years, closing nearly all of our projects during that time.
Volunteering with the Lake Champlain Land Trust is a natural fit for employees who enjoy the Lake. This year we partnered with Ben and Jerry's Burlington Scoop Shop and local design firm Stantec to improve and restore our natural areas.
Rick Bryant, a senior project manager at Stantec, sees the value in local businesses helping to address local conservation issues. "Working with the Lake Champlain Land Trust is a great opportunity to help restore and protect the beautiful environment we all are lucky enough to enjoy here in Vermont."
Today's Volunteers, Tomorrow's Conservation Leaders
Much like solving a complex calculus problem, restoring an eroding riverbank takes hard work. Thankfully, in May, an energetic group of students from Vergennes Union High School were on hand as we kicked off our two-year, 1,300-plus tree restoration project at the Upper La Platte River Natural Area in Shelburne.
The students stepped up to plant more than 300 trees and learn why restoring riverside forests is so important for both protecting our communities and Lake Champlain.
Once mature, the trees planted by the students will help buffer against extreme flood events, slowing flows and trapping sediment that would otherwise wash into Lake Champlain's Shelburne Bay.
In addition to the satisfaction of giving back, the students gained valuable insight into the important role that stewardship and conservation play in protecting our natural resources.
Join Us!
To join our volunteer e-mail list, give us a call at (802) 862-4150 or email .