Interested in planting a rain garden on your property?  Here are some of our tips!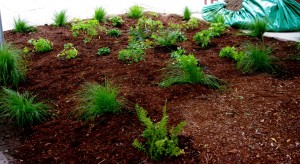 1.  Evaluate the area.  How much sun does it get?  How much water will run into it?
2.   Design your garden using native plants that can handle wet AND dry soils.  Call Dig Safe to mark underground lines, and call us for plant suggestions.
3.   Dig out about 3-6 inches of dirt on the downhill side to create a shallow saucer.  Berm the edges, leaving the upland edge gradually sloped to direct runoff into the garden.
4.   Mulch.  Spread mulch to cover the dirt to suppress weeds and hold moisture.
5.   Water!  It may sound odd, but once you've planted the garden, make sure to water it well and let plants establish themselves.  In the first year, you'll need to water during dry spells.
Want more information?  Check out our How to Build a Rain Garden brochure.
---
Urban Solutions – Rain Gardens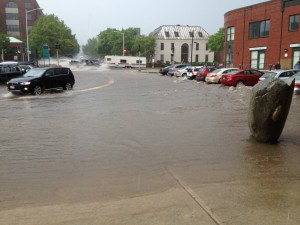 Can villages, and cities like Burlington, avoid funneling dirty water into Lake Champlain? Can homeowners conserve water and also help enhance the water quality of Lake Champlain?
The answer to both of these questions is "yes" and thanks to the leadership of the business community, more rain gardens are on the horizon. We teamed up with our friends at The Green Life, Burlington's first "eco store," to help them design and install a rain garden in the greenway in front of their store on Main Street.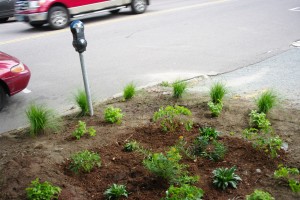 The results are encouraging. We've seen the rain garden do its job catching and holding rain runoff from the sidewalk, filtering it through the ground, instead of it racing down the hill into Lake Champlain.  Rain gardens are easy to install and if more people create them, we could collectively make a big difference in reducing urban water runoff into the lake.
If you know a business that is interested in creating a rain garden, let us know. We'd be happy to help. Or, stop by The Green Life to see the garden and pick up a rain garden brochure about how to design and plant one of your own!