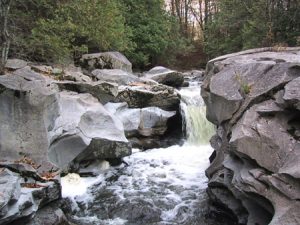 Protecting the Water Quality of Lake Champlain through Permanent Land Conservation and Stewardship!
While others are addressing portions of the water quality issue, ultimately the long-term health and resilience of Lake Champlain will be dependent on increasing people's personal desire and connection to the lake and the related landscape. Our 19 miles of shorelands along Lake Champlain and its major rivers provide deep interior protected areas that model ideal land use and "buffer" the Lake while protecting essential wildlife habitat. Our 17 islands include sensitive and unique habitats and their permanent conservation prevents erosion, excess fertilizers, and other direct negative impacts to the Lake.
We know our work to create visual and tangible demonstration areas, hosting tree planting workdays and shoreland workshops, and creating model green infrastructure areas like rain gardens, will increase the conservation and stewardship ethic the Champlain Valley needs to protect Lake Champlain's water quality in the long-term.
---
The Problem

Parts of Lake Champlain still struggle with a significant water quality challenge, a problem that has been compounded (and will continue) by recent extreme storms in combination with high fertilizer inputs from area residents and communities. And as the countryside of the Champlain Valley is converted from working farms and forests to residential use, the Lake suffers from hundreds of small land use changes adding up to serious water quality issues. High levels of sediments and nutrients, particularly phosphorous, have caused blue-green algae blooms in the lake, threatening the health of the humans, pets, and wildlife.
---
Top Five Solutions
1) Plant Trees – Mature trees absorb tens of thousands of gallons of rainfall and spring melt, protecting your land and your lake. Planting vegetation in buffer areas is a great way to reduce sediment and nutrient flow into nearby waterways.
2) Walk Your Water Flow! – Does your roof drain right into a local stream? Could you redirect your driveway flow into a beautiful rain garden? For more information, contact us via info@lclt.org or 802-862-4150.
3) Join the Lake Champlain Land Trust – Your membership helps us to create targeted demonstration areas in key spots within the watershed.  Donate Now!
4) Volunteer – Join our fun tree planting workdays and protect the lake. See our Volunteer Page.
5) Conserve Your Land – Permanent land conservation tools provide permanent water quality solutions. Learn about Conservation Options.
---
Water Quality Improvement Options for Landowners

Landowners want to help protect their beloved lake. Some are not always sure how to protect the lake — what investment of trees will do the most good or which trees to pick from the dozens of choices at the local nursery. Other landowners have chosen to permanently conserve their land to protect the Lake's water quality. As we consult with landowners about conservation tools to protect their family land, ecologically sensitive landscaping questions keep coming up. So we have teamed up with our partners at the Lake Champlain Sea Grant Program to offer shoreland protection workshops.
A number of landowners have asked us to evaluate the drainage and flooding issues caused by prior less-informed landowners. We often discover that there are lake-friendly options with proper design. We are hoping to increase our capacity to reach more landowners, but we need your help to do so. Click to Donate
We also continue to offer landowners tips to protect their homes, yards, and landscaping through our printed newsletters. To subscribe, please email us at with your mailing address.
---
Upper La Platte River Natural Area Case Study
We are proud to partner with many different groups, including the Intervale Center's Conservation Nursery and the State of Vermont's Ecological Restoration Program, as we undertake a two-year, 1,600+ tree restoration project at the Upper La Platte River Natural Area. We are actively restoring flood-absorbing floodplain forests that formerly helped absorb sediments and phosphorous just before the La Platte River flowed into Lake Champlain's Shelburne Bay. In the near-term, our restored forest will serve as a demonstration area complete with a series of educational signs helping landowners select and plant trees on their land.  Click here for more information about our successful May, 2015 tree planting.
We believe strongly that our work to create visual and tangible progress, based on increasing the conservation and stewardship ethic, will yield results in the near-term and long-term.