Majestic Trembleau Mountain
Celebrating A "Once-in-a-Generation" Conservation Success
The numbers are impressive: 3 peaks, 618 acres, and over 4,000 feet of shoreline. But, it is the feeling you get upon cresting Trembleau Mountain's ridgeline and gazing out over the calm blue expanse of Lake Champlain that will take your breath away.
The Trembleau Mountain conservation project protects one of Lake Champlain's largest remaining undeveloped shoreline properties, featuring nearly a mile of pristine cobble beach and stunning panoramic views. The conserved property also includes prime wildlife habitat and rich woodlands that act as a natural filter for water running off the land, protecting the water quality of Lake Champlain.
The Lake Champlain Land Trust spent several years working with landowners Bob and George Gellert, exploring conservation options. After partnering with the Open Space Institute on our Whitehall Cliffs Natural Area project, we again worked together to appraise the Trembleau Mountain property, evaluate its ecological attributes and recreation potential, and negotiate a sale.
"The Lake Champlain Land Trust is thrilled to have partnered with the Open Space Institute to protect the Champlain Valley's next great hiking destination," noted Executive Director Chris Boget. "All those who love and enjoy Lake Champlain will forever benefit from this 'once-in-a-generation' conservation success story."
"The conservation of the Trembleau Mountain-Lake Champlain Shoreline property is a resounding win for kayakers, hikers and outdoors lovers alike," said Kim Elliman, OSI's President and CEO. "It will protect the Lake Champlain watershed, while keeping beautifully rugged land in the hands of the public. OSI is delighted to continue our commitment to the Adirondack Forest Preserve, an international treasure right here in New York State."
The Open Space Institute purchased the property in 2017, and will soon transfer it to New York State for inclusion in the Adirondack Forest Preserve.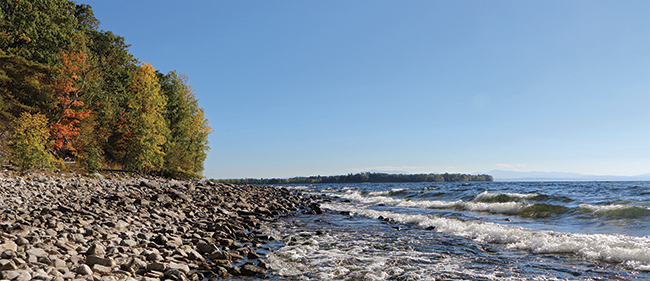 Restoring Rare Pitch Pine Habitat
Trembleau Mountain's now-conserved ridgeline is home to a unique fire-adapted, ridgetop forest, where pitch pines and junipers cling to rocky ledges.
The balance of this regionally-significant natural community is in jeopardy. Decades of wildfire suppression have enabled the proliferation of white pines which crowd out the fire-adapted pitch pines.
The Lake Champlain Land Trust is working with the Open Space Institute to actively restore this rare habitat by simulating the effects of a woodland fire. By strategically removing white pines that threaten the success of the pitch pine population, we are working to restore the natural balance of this unique forest.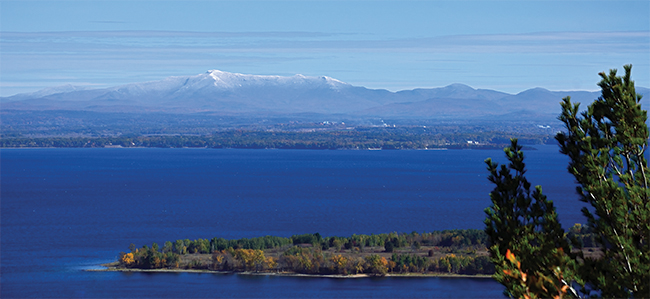 Over 600 Acres to Explore!
Perched along the widest section of Lake Champlain, Trembleau Mountain affords an unparalleled view of Lake Champlain and Vermont's Champlain Valley. On a clear day, the view encompasses the entire Northern Green Mountain range, from Killington Peak in the south to Jay Peak in the north—over 90 miles of mountains in one grand, all-encompassing view.
The Lake Champlain Land Trust and the Open Space Institute will now partner with the New York State Department of Environmental Conservation to evaluate and map areas where species can best adapt and move given the effects of climate change. We will also help create a proper trail network sensitive to the incredible ecology of the area. Once opened to the public, Trembleau Mountain is sure to become a popular regional hiking destination.
Supporting Our Tourism Economy
With its expanding local food scene, Essex County, New York is becoming a hotspot for Champlain Valley tourism.
In the shadow of Trembleau Mountain in Keeseville, New York, visitors can enjoy local food and craft beer at Clover Mead Cafe and Farm Store, Mace Chasm Butcher Shop, and Ausable Brewing Company. The addition of a spectacular trail system in the future is sure to draw even more visitors to this quaint community.

Protecting Vermont's World Famous Sunsets
Trembleau Mountain lies directly across the Lake from Burlington's waterfront, where tourists marvel at spectacular sunsets over Lake Champlain and the Adirondack Mountains. Trembleau Mountain is also highly visible from several points along the Waterfront Bike Path from Burlington to South Hero.
With your generous support, we will continue to protect the scenic beauty of Lake Champlain and conserve incredible places like Trembleau Mountain—for our generation and those to come. We simply cannot do this work without you.
Top photo credit: Greg Miller courtesy Open Space Institute

Scenes from Trembleau Mountain
Conserved by the Lake Champlain Land Trust and Open Space Institute
Since 1978, the Lake Champlain Land Trust has conserved 17 islands, 19 miles of shoreline, and more than 10,000 acres—including more than 25 public access natural areas.  Learn more about how you can help us protect Lake Champlain and the land surrounding it.
Sign up for our free E-newsletter containing updates on hikes, programs and events!  Click here to subscribe.