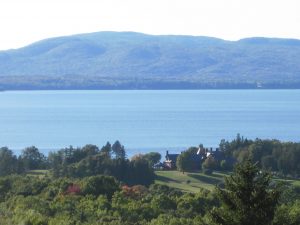 Our Shelburne Farms Shoreline project preserves several critical sections of the extensive Lake Champlain shoreline on the 1,000 acre property including a rare Limestone Bluff Cedar-Pine Forest.  Shelburne Farms is now a non-profit organization maintains 10 miles of walking trails open to the public all year long (a fee is charged in the warmer months).  The best way to view our protected shoreline, as well as Lake Champlain and the Adirondack high peaks, is to hike to the top of Lone Tree Hill.
Directions
From the South:  Take US Route 7 N.  Turn left on Harbor Rd for about 1.5 miles.  The entrance to Shelburne Farms will be on your left.
From the North:  Take US Route 7 S.  Turn right on Bay Rd and follow it until it ends.  The parking lot for Shelburne Farms will be directly in front of you.
Guides
Click here for a printable guide to Shelburne Farms, including driving directions.
History
A conservation easement on several miles located on the Shelburne Farms property was donated to the Lake Champlain Land Trust in 1982 and protects forested shoreline and critical viewsheds.  Years later the Webb family officially donated the land to the newly formed Shelburne Farms non-profit organization. Most of the interior lands and nationally significant buildings on the property were later protected by conservation easements held by the Vermont Land Trust, Preservation Trust of Vermont, and the Vermont Housing and Conservation Board.
As part of the Shelburne Farm's mission the 1,000 acre non-profit hosts visitors staying or eating meals at the historic Shelburne Farms Inn, attending summer camps, school programs, conferences, or year-round events and festivals.  Visitors can walk the trails as part of an admission fee during the warm months or hike for free in the winter months.
Partners
Shelburne Farms shoreline easements were generous donated Lake Champlain Land Trust by the landowner Derick Webb.  We often co-host fall hikes on the Shelburne Farms property to celebrate our partnership.