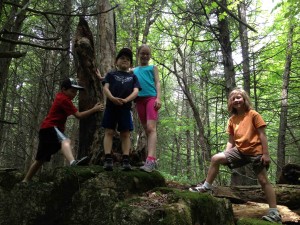 To see areas that are free and open to the public, check out our Places to Hike and Paddle Page.
We also host free naturalist-led hikes on our natural areas, such as our Owl Hoot at our Niquette Bay State Park project.
The Owl Hoot Hike was already a special evening. Groups of familiar friends. A father and daughter, We started before dusk and stopped many times to call to the owls.

The hush of the forest at night was reward enough. The crunch of the frozen ground without any noises of modern society. The darkness in the middle of a large nature preserve.

Just then a light snow fell on our faces as we listened intently for an owl to answer us.

Then, as we stood listening, a mysterious voice boomed back at us, "Who…who…who cooks for you?" The barred owl was maybe 50 feet away. A second Barred Owl called from further inside the swamp. A third still further away also declared his territory.

Magical.
If you would like to learn about our upcoming events and hikes, sign up to receive our E-Newsletter by clicking on the blue Subscribe button in the sidebar.