Bob and Ann Buermann love their property, Paradise Bay Farm. Bob grew up here, and they'd raised their family here. They walked in the woods and had great memories of spring walks every year. In the winter, they snowshoe and cross-country ski in the woods and fields.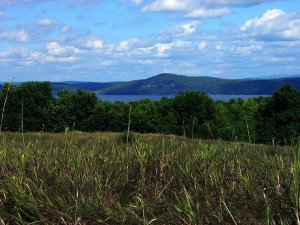 But something was missing.
What would happen to this land when they needed to sell it? How could they make sure that the beautiful wooded hillsides and rolling meadows–and all that it had done for their family to build a sense of peace, community, and joy–would be available for other families in the future?
For Bob and Ann, the answer was to conserve their land. "We consider ourselves caretakers more than landowners and wanted to ensure the land and views are available for future generations to actively use," noted Bob. "The staff at the Lake Champlain Land Trust helped us meet that goal, so even if our family eventually sells the land, there will never be houses, just open fields with lake and mountain views."
Learn more about how to conserve your land here. Read another land conservation success story about Ellie Russell here.