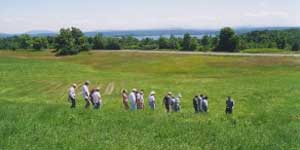 Hike
We've helped communities conserve family-friendly hiking trails across the Champlain Valley. Almost all of our public lands are open year-round without a fee.*
Short Hikes
Medium Hikes
Long Hikes
* Niquette Bay State Park & Shelburne Farms both require an admission fee during the warm months.
Are you looking for hiking in Vermont and New York? You've come to the right place. Our natural areas feature some of the best Lake Champlain hikes. Got a question about one of our VT hiking trails? Feel free to e-mail us at: . Happy trails!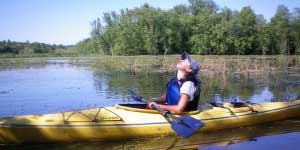 Paddle
We've conserved over 19 miles of shoreline, providing great access spots and beautiful paddling destinations.
Click below for guides and directions.
Short Paddle Trips
Long Paddle Trips
** Knight Island State Park requires reservations and an overnight fee from Memorial Day to Labor Day.
A Paddler's Journal
The Lake Champlain Land Trust is proud to have long hosted "A Paddler's Journal" exclusively on our website. Cathy Frank and Margy Holden, long-time advocates and friends of Lake Champlain, wrote the premier kayaker's guide for Lake Champlain, including several paddles in the beautiful Lake Champlain Islands region. Their complete journey can be found in "A Kayaker's Guide to Lake Champlain, Exploring the New York, Vermont and Quebec Shores" (Black Dome Press, 2009).