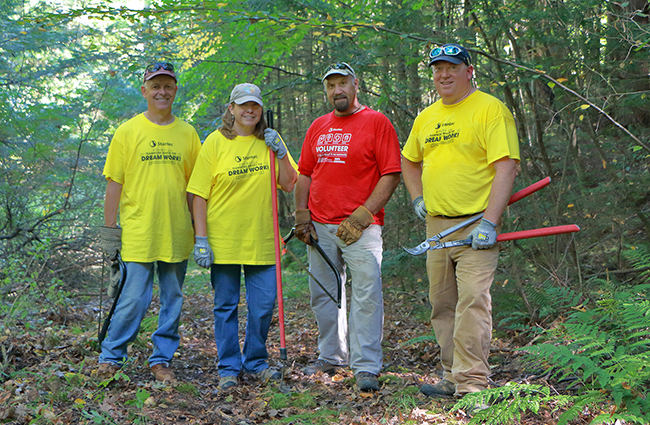 Beams of sunlight illuminate a group of Lake Champlain Land Trust volunteers sawing branches, raking pine needles, placing rocks, and, occasionally—when summoning up an extra burst of energy—grunting as they construct a new forest trail.  On the last day of summer, the group helped expand the trail system at the family-friendly Upper La Platte River Natural Area in Shelburne.
Over the course of an afternoon, ten volunteers from local environmental and engineering design firm Stantec constructed a new trail linking the scenic Upper Field Trail to the Hemlock Trail.  The new trail bypasses a steep area washed out by Tropical Storm Irene, allowing visitors to once again reach the natural area's impressive Hemlock forest and walk a two-mile long circuit through a variety of landscapes.
A peaceful and conveniently located hiking destination, the 65-acre Upper La Platte River Natural Area includes almost a mile of shoreline along the La Platte River, a major tributary of Lake Champlain.  The Natural Area features an abundance of wildlife, ample opportunities for bird watching, gentle trails, and a series of interpretive displays focused on water quality. Conserved in 2011 by the Lake Champlain Land Trust, the landowner the Vermont Zen Center, and other partners, the property is open to the public for hiking, birding, cross-country skiing, and snowshoeing.
"This new trail makes the Upper La Platte River Natural Area an even more attractive destination for families, who want nearby places to connect with nature," said Chris Boget, Executive Director of the Lake Champlain Land Trust. "We thank the dedicated Stantec volunteers for helping us improve this incredible community resource."
The volunteers put their engineering skills to good use, constructing a natural stone water bar that also serves as a staircase.  Located along a hillside, the new path was designed to follow the lay of the land and minimize erosion during heavy rainfall.
"Our local staff is focused on preserving and enhancing the environment, so we were happy to support the Lake Champlain Land Trust during our annual Stantec in the Community Day," says Gary Santy, a senior principal with Stantec in South Burlington. "It was a great opportunity to contribute to the enjoyment of this wonderful local natural resource."
Would you like to help out?  For more information about volunteering with the Lake Champlain Land Trust, visit our volunteer webpage.