Archives for July 2013
By
Everyone can do something to help protect water quality on their land! We have started a demonstration area at the newly conserved Upper La Platte River Natural Area to show visitors some easy steps they can take to ensure that their local waterways are as healthy as possible. Our first step was to take a riverside area that had been cleared and plant it with Red Osier Dogwoods.
Check out the transformation: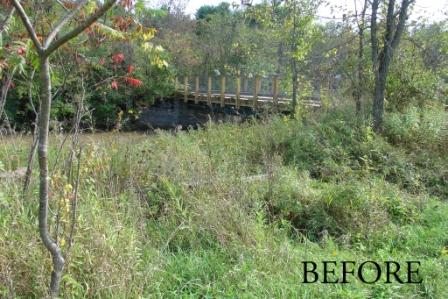 Without strong vegetation holding its banks in place, this land was in danger of erosion and flood damage as the river rose, fell, iced over, and thawed. Also, invasive species such as Poison Parsnip could take over without larger native plants to shade them out.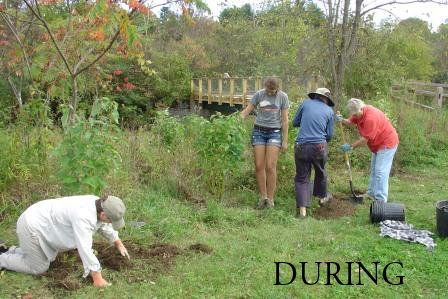 We chose Red Osiers because they are beautiful, native shrubs that prefer moist soils, and thus are often found growing on Vermont riverbanks. In the next few years, these shrubs will fill up this area and provide habitat and food for wildlife.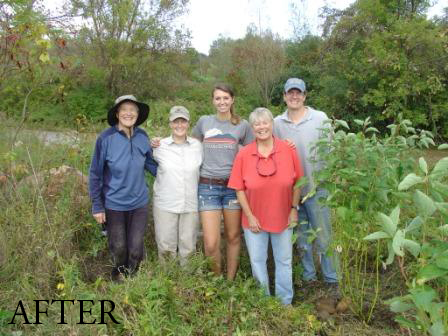 Thanks to the volunteers who helped us restore the riverbank. (And thanks to the Vermont Zen Center for their continued support of our restoration plans). Volunteers, from left: Zen Center volunteer coordinator Ti'an Callery, Louise Piche, intern Rory Shamlian, Cameron Edsun, Lake Champlain Land Trust Executive Director Chris Boget.
By
Bob and Ann Buermann love their property, Paradise Bay Farm. Bob grew up here, and they'd raised their family here. They walked in the woods and had great memories of spring walks every year. In the winter, they snowshoe and cross-country ski in the woods and fields.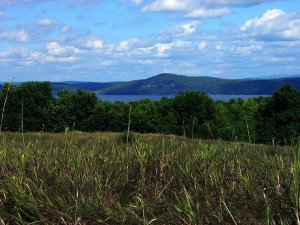 But something was missing.
What would happen to this land when they needed to sell it? How could they make sure that the beautiful wooded hillsides and rolling meadows–and all that it had done for their family to build a sense of peace, community, and joy–would be available for other families in the future?
For Bob and Ann, the answer was to conserve their land. "We consider ourselves caretakers more than landowners and wanted to ensure the land and views are available for future generations to actively use," noted Bob. "The staff at the Lake Champlain Land Trust helped us meet that goal, so even if our family eventually sells the land, there will never be houses, just open fields with lake and mountain views."
Learn more about how to conserve your land here. Read another land conservation success story about Ellie Russell here.